The DOE-Sponsored Nationwide Consortium of Universities to Revitalize Electric Power Engineering Education by State-of-the-Art Laboratories
Overview:
This consortium of 82 U.S. universities is led by University of Minnesota (UMN) and is supported by the Dept. of Energy with ARRA funding. The principal investigator is Ned Mohan of the UMN Dept. of Electrical and Computer Engineering who is supported by three co-principal investigators including Bruce Wollenberg, William Robbins, and Paul Imbertson, all of the ECE Dept. The project is for three years and commenced on July 30, 2010. Total funding for the project is approximately $4.2 million with DOE providing $2.5 million and the rest from cost-sharing by the University of Minnesota and the other participating institutions.

Project objectives:
The objective is to revitalize U.S. power engineering education programs in institutions of higher education to meet immediate and near-future needs. Each of the 82 U.S. universities will implement the state-of-the-art laboratories in power engineering which are a part of an overall new electrical energy systems curriculum (details at www.ece.umn.edu/groups/power and www.cusp.umn.edu) developed at the University of Minnesota. In addition to these laboratories, which will be new at most of the participating universities, this project will also result in much needed faculty development and new classroom materials in support of the power engineering curriculum. This new educational framework will quickly start producing a large number of graduates with a fundamentals-based education who can meet the multi-disciplinary challenges inherent to our nation's efforts to make the nation's grid cleaner, smarter, and more reliable. It will also be a foundation for graduate education and research in the areas of renewable energy such as wind, solar, storage, and energy conservation.
Members: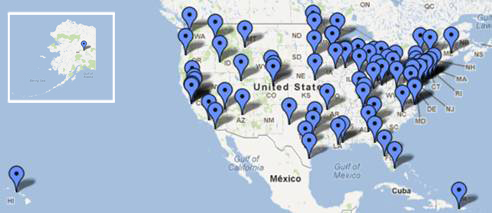 Baylor University
Binghamton University - SUNY
Boise State University
California State University - Chico
California State University - Northridge
California State University - Sacramento
Clarkson University
Cleveland State University
Florida International University
Florida State University
Colorado State University
Gannon University
George Washington University
Hampton University
Howard University
Lafayette College
Marquette University
Miami University
Michigan State University
Montana State University
New Jersey Institute of Tech
North Carolina State University
North Dakota State University
Northern Arizona University
Oakland University
Ohio Northern University
Ohio State University
Old Dominion University
Oregon State University
Pennsylvania State Univ - Harrisburg
Polytechnic Institute of NYU
Prairie View A&M University
Purdue University Calumet
San Diego State University
San José State University
Santa Clara University
Seattle University
South Dakota State University
Southern Polytechnic State University
Southern University and A&M College
SUNY Maritime College
Temple University
Tennessee State University
Texas A&M University - Kingsville
Texas Tech University
Tuskegee University
University of Alaska
University of Arkansas
University of Bridgeport
University of California - Santa Cruz
University of Colorado - Boulder
University of Connecticut
University of Evansville
University of Hawaii at Manoa
University of Louisiana - Lafayette
University of Maine-Orono
University of Minnesota - Twin Cities
University of MN-Duluth
University of Nebraska - Lincoln
University of Nevada-Las Vegas
University of North Dakota
University of Northern Iowa
University of the Pacific
University of Puerto Rico - Mayaguez
University of South Florida
University of St. Thomas
University of Texas - San Antonio
University of Utah
University of Vermont
University of Wisconsin-Milwaukee
University of Wisconsin - Platteville
University of Wyoming
Villanova University
Washington State University
West Virginia University
Western Michigan University
Western Kentucky University
Wilkes University
York College - Pennsylvania
Youngstown State University